Diseñado por Soon Mo Kang.
[English] Hanger tea designed by Soon Mo Kang.
Via swissmiss
Lego y Muji se unieron para producir un set de cuatro cajas que vienen con los clásicos Legos, además de un juego de hojas y un perforador Lego,  para que puedas combinarlos y hacer algo distinto. Si hablas japonés puedes comprarlo aquí.
[English] Lego and Muji teamed up to develop a set of four different boxes that comes with classic Lego bricks, a few sheets of paper and a Lego punch hole tool, so you can combine both and create something new. If you speak japanese, you can buy them here.
Via todayandtomorrow
Pájaros y cables falsos para colgar tu ropa. Diseñado por Fabian Von Spreckelsen.
[English] Birds and high voltage lines inspired Fabian Von Spreckelsen to design this laundry hanger.
Via designspotter
Publicidad para aspiradoras por la agancia Y&R de Dinamarca.
[English] Electrolux vacuum cleaner ad by Y&R agency from Denmark.
adsoftheworld via jp192
Librero con forma de pajarera que además permite marcar la página que estas leyendo.
[English-quoted from source] Readers' Nest is a simple but ingenious little shelf for all book lovers. Simply place the book up side down on top of the shelf, and you will easily find the page where you stopped reading.
Escritorio diseñado por GamFratesi, creando sensación de privacidad en lugares públicos.
[English] Desk designed by GamFratesi. Creating a more intimate working environment.
Via Dezeen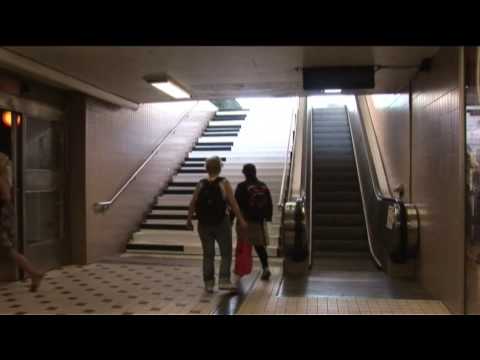 Cómo motivar a las personas para que usen las escaleras? Aquí tiene una idea.
[English] How to motivate people to use the stairs? Here's an idea.
Link:   www.cesmes.fi/pallo.swf
Via samsantos
Guantes diseñados por Jack Spade, para el invierno que comienza en el hemisferio norte del planeta. A la venta aquí.
[English quoted from hi+low] To lighten the mood and keep warm, pick-up a pair of these JACK SPADE, limited edition, moustache gloves featuring an American-style moustache on one hand and a French-style on the other hand.
Via Hi+Low