Matt Robinson y Tom Wrigglesworth han seleccionado ocho fuentes muy utilizadas y ha comparado qué tan económicas son. Lo hizo viendo cuánta tinta sobra luego de pintar cada fuente, usando todas el mismo tamaño. Obviamente utilizó un tamaño grande para obtener un resultado más gráfico y fácil de entender, demostrando claramente que existen grandes diferencias de consumo entre las distintas fuentes.
[English readers - Quoted from Matt's portfolio] A selection of the most commonly used typefaces were compared for how economical they are with the amount of ink which they use at the same point size. Large scale renditions of the typefaces were drawn out with ballpoint pens, allowing the remaining ink levels to display the ink efficiency of each typeface.
Tom Wrigglesworth & Matt Robinson & via worldfamousdesignjunkies
Me gusta la gente que se propone desafíos y más me gustan los desafíos loosers nerds. Dividieron una película entera de Star Wars en 472 clips de 15 segundos y piden que tu la actúes de la mejor manera posible para luego unir los clips de todos y hacer una gran película nerd hecha por los fans.
[English readers - quoted from the web page] You and 472 other people have the chance to recreate Star Wars: A New Hope. Below is the entire movie split up into 15 second clips. Click on one of the scenes to claim it, film it, and upload it. You can have up to three scenes! When we're all done, we'll stitch it all together and watch the magic happen.
Link: www.starwarsuncut.com
Via Notcot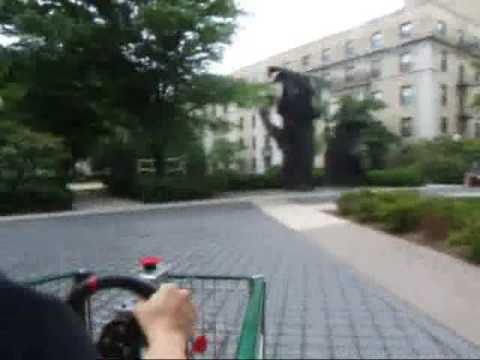 Mientras ustedes están en la universidad tomando cervezas, escuchando música y leyendo noquedanblogs, chicos del MIT hacen algo más de su tiempo libre. El LOLrioKart consiste en un carro de supermercados enchulado con un gran pack de baterías y un motor de 15HP que le permite llegar a 72K/H.
LolrioKart: made by MIT students, it's powered by aircraft NiCd batteries, a 15hp motor, features regenerative braking and goes 45mph.
Si alguien sabe a quién puedo dar créditos por esto me lo hace saber.
Author unknown.
Via migranol
Chair. de el artista conceptual Estadounidense Joseph Kosuth. Mas de sus trabajos aqui.
Chair. From the American contemporary artist Joseph Kosuth. More info and more of his work here.
Via Swiss Miss
No es tu set de Legos tipico: ahora puedes adquirir sets para construir las reproducciones de edificios como la torre Sears, el Empire State o el museo Guggenheim. Compralos aqui.
This is not your typical Lego set: now you can buy and build your very own replicas of the Sears tower, the Empire State or the Guggenheim Museum. Buy them here.
Via Design Notes
Gracias papá!
En Design*Sponge estan enseñando a hacer galletas 3D que flotan en tu sopa, den una vuelta por si les interesa la comida 3D flotante!
On the Design*Sponge guest blog. Learn how to make 3D sheep crackers to stand in your soup!
Al parecer la crisis está afectando a muchos y nadie está dispuesto a que le roben sus cosas. Les muestro tres célebres ideas para proteger tus bienes queridos a cambio de su estética. Primero, tenemos una cámara 100% funcional y nueva, la cual fué enchulada por su dueño antes de ir de vacaciones. Si siguen el link de la segunda imágen, los lleva a un artículo bastante detallado sobre cómo camuflar tu flamante bicicleta en una horrible y oxidada. La tercera ya la hemos publicado en el blog pero valía la pena mencionar acá. Pueden comprar 25 de esas bolsas por USD$10 aquí.
Uglify your things to deter thieves. Click each image for more info.
Markkit es una marcador de texto virtual para paginas web. Genial!
Markkit is a web2.0 text highlighter. Fun!
via Swiss Miss