Markkit es una marcador de texto virtual para paginas web. Genial!
Markkit is a web2.0 text highlighter. Fun!
via Swiss Miss
Ya les hablaba de las curiosidades del traductor de Google. Ahora le toca al mismísimo Facebook. Todos los que tengan una cuenta pueden ingresar el código que les pego abajo en cualquier campo de texto de la página (Código Konami), luego hacen click o presionan "enter" en cualquier lugar y aparecerá la sorpresa.
Código: Arriba, arriba, abajo, abajo, izquierda, derecha, izquierda, derecha, B, A, Enter.
[English readers] The Konami code works on Facebook! Arrows up, up, down, down, left, right, left, right, B, A, enter, click away! ….seriously!
Via Notcot
Jeri Ellsworth hizo su propia cartera de Nintendo, la cual es completamente funcional con dos controles y una pantalla. Vean el video si dónde ella misma explica un poco más.
Jeri Ellsworth made her own functional Nintendo purse. Check out the video if you want to know more.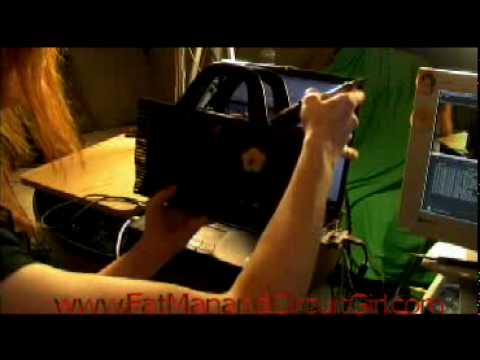 Via Make: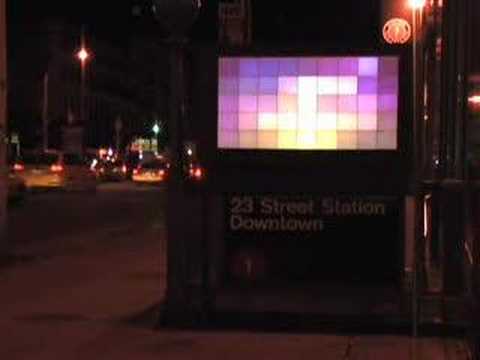 Grupo artístico no autorizado que pretende pixelar las pantallas de New York. Puedes ver cómo hacer tú mismo esa pantalla de 8 bits aquí.
"Pixelator is an unauthorized on-going video art performance collaboration with the New York City Metropolitan Transit Authority, Clear Channel Communications, and its selected artists.
Since 2003, the MTA has made available for exhibition purposes 80 LED screens located at subway entrances across New York City. Unfortunately, the high cost of exhibiting (an estimated $274,000 per month per screen) prevents most artists from having access to these facilities. While the MTA's effort to create more opportunities for video art exhibition in public spaces is to be commended, selected works remain wholly fixated on commercial goods and media conglomerate events, a short-sighted curatorial choice that regrettably ignores the full potential of these promising exhibition spaces. 
In an attempt to broaden the scope of MTA's video art series, Pixelator takes video pieces currently on display and diffuses them into a pleasant array of 45 blinking, color-changing squares. Since the project is an anonymous collaboration, the resulting video is almost entirely unplanned and unanticipated, with the original artists helping to create new works of art without any knowledge of their participation."
Link: Pixelator
Esta pantalla está hecha con envases de yogurt, en este caso con unos Alemanes llamados Fruchtzwerge, pero claramente puedes hacerlo con cualquier otro. Es fácil, cuando ya tengas guardados suficientes envases, los unes con una argolla de metal y listo! Ojo: tienes que ponerle una ampolleta de bajo voltaje para que el plástico de los envases no se derrita.
This lamp is made of many plastic yogurt containers, in this case one from Germany called Fruchtzwerge, but you can do it with another yogurt clearly. It's easy, when you have all the containers you have to string them together with little metal rings, put them on a lampshade ring and it's done! Warning: The plastic won't melt if you use a low-heat bulb.
Vía Bem Legaus, Craftster
En 5 simples pasos Alberto Marcias, estudiante de diseño de la Chile, explica como junto a Nicolás Brown, Felipe Brown, Emanuel Llaguno y Jordi Casanueva enchularon una combi. Mira a continuación el video oficial y todo el proceso de enchulamiento..
In 5 simple steps Alberto Marcias, design student, explains how he pimped his ride with Nicolás Brown, Felipe Brown, Emanuel Llaguno and Jordi Casanueva. You can watch the video and all the process here.
Seguir leyendo este artículo...
…make a juice extractor. Cómo hacer un extractor de jugo.
…make a balloon inflater. Cómo hacer un inflador de globos.
…make a watering can. Cómo hacer un regador.
Videos creados de la reutilización de envases de jugos Brämhults; otra creación de Petter Prinz, de la Universidad de Beckmans.
Videos created by reusing bottles of Brämhults juice. Produced by Petter Prinz from Beckmans College.
Book Rack from Clothes Hanger.
 Via Super ziper
Para aquellos que se inclinan hacia lo nuevo en moda, les presentamos dos vestidos diseñados por Berber Soepboer y Michiel Schuurman. Las primeras dos fotos corresponden al "Color-in Dress", que consiste en un vestido que puede ser pintado a mano gracias al diseño del estampado en la tela. Las siguientes dos fotos son del "Assembly-Dress", que consiste en tres vestidos que se puden desarmar y luego rearmar con su sistema de botones.
For those of you who are interested in fashion, we present you two DIY dresses created by Berber Soepboer and Michiel Schuurman. The first two pictures show their "Color-in Dress", which consists of a dress you can actually paint by hand thanks to the pattern of the fabric. The next two pictures correspond to the "Assembly-Dress", that consists of three dresses that can be taken apart and combined with a button-system
Seguir leyendo este artículo...
LübeckerJung estaba aburrido de que todos en su clase tuvieran el mismo MacBook por lo que decidió enchularlo estilo Disney. Genial.
MacBooks are getting everyday more and more popular so LübeckerJung decided to customize it Disney style. Cool.
Via Flickr