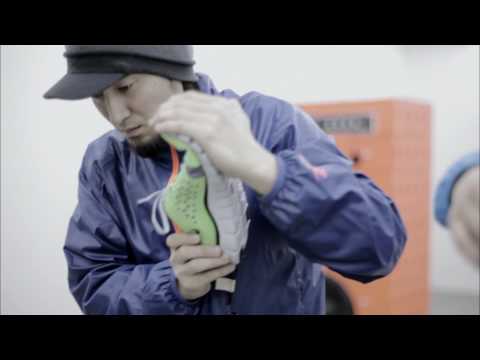 Nike pidió a Tomoaki Yanagisawa de 4nchor5la6 que instalara acelerómetros flexibles en sus zapatillas y luego a Daito Manabe de rhizomatiks que programara el sonido. En el video muestran una canción compuesta por los artistas utilizando las zapatillas alteradas.
[English] Nike asked Tomoaki Yanagisawa from 4nchor5la6 to install flexible accelerometers and Daito Manabe from rhizomatiks to do all the sound programming to make some music with their shoes.
Via todayandtomorrow
Nueva campaña para Evian.
Via acancino
La agencia de diseño The Creative Method quería hacer un regalo original a sus clientes, el cual reflejara su humor y creatividad. Decidieron entonces fotografiar expresiones faciales para luego crear etiquetas únicas para cada botella, invitando a sus clientes a hacer lo mismo.
[English, quoted] "The aim was to create a unique gift to give our clients at Christmas and to act as a new business introduction. It needed to remind them of who we are and the long hours that we put into our work. It needed to feature all of our staff, reflect our creativity and sense of humor. The print run was 5000 labels. We obtained high quality cleanskin wines and created our own labels. Each label was based on one staff member. It included a number of facial features and the client is encouraged to BYO – Build Their Own. The wine and the label is the perfect substitute for when the real thing cannot be there." Project by The Creative Method.
Via TheDieline
Video motivacional para la beca ofrecida por Langara College (USA) para aspirantes a diseñadores y artistas. La beca ofrece 18 mil dólares y una práctica asegurada. Más información aquí.
[English] The Rethink Scholarship is an $18,000 scholarship for aspiring art directors and designers to Langara College's Communication and Ideation Design program. The winner will also receive a 3-month internship with Rethink. More info here.