via cuarto derecha
Un proyecto de fin de semana para reciclar tus ampolletas (bombillas) viejas.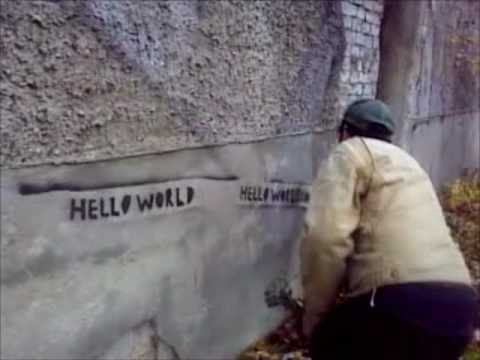 looptaggr via todayandtomorrow
Looptaggr es probablemente la forma más rápida y fácil de hacer un stencil. La idea es de Ariel Schlesinger y Aram Bartholl. Puedes ver instrucciones para armar uno tú mismo aquí.
[English] Looptaggr is a DIY proyect by Ariel Schlesinger & Aram Bartholl and is probably the easiest way to make a stencil. See DIY instructions here.
via cuartoderecha
En cuarto derecha proponen una idea para reutilizar tus envases viejos, usando un cierre (cremallera) y algo de tiempo.
[English] An idea to reuse your old containers.
'Rainbow', por Helmut Smits.
[English] Rainbow, by Helmut Smits.
via t&t
Binder clips as cable organizers.
lifehacking via boingboing via thedailywhat
Mata mosquitos para esos más extremos, por Johannes Vogl.
[English] DIY Mosquito-killing-flame-thrower by Johannes Vogl.
Via todayandtomorrow
Si estás con tiempo y te animas a hacer  algunas de estas casas-galletas que se apoyan en tu taza, en not martha explican cómo.
[English] DIY tiny gingerbread house that perches on the edge of your mug.
Link: notmartha.org
En Wit&Whistle subieron un DIY de cómo hacer en pocos minutos esa lámpara de arriba, les dejo el link.
[English]  DIY Wine bottle light at Wit&Whistle.
Cómo hacer una ballesta hecha de lápices, explicado en siete imágenes. Sacado del libro Mini Weapons of mass Destruction, de John Austin. Sigue leyendo para ver las instrucciones.
[English] How to build a pencil crossbow. As seen at John Austin's book, Mini Weapons of mass Destruction. Keep reading to see  instructions.
Seguir leyendo este artículo...
Propuesta de cubiertos comestibles por Julien Madérou, incluye fotos y PDF por si te animas a hacerlo.
[English] Edible cutlery by Julien Madérou. More images and PDF document here.
Julien Madérou via Cuartoderecha